Shaving:The Role Playing Game.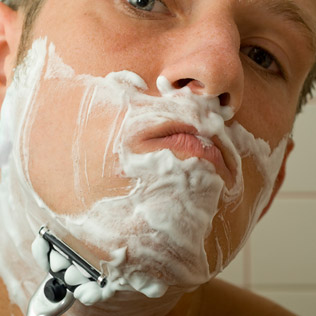 " HEY! Stop sniffing Greek fingerprints and wrap your arse around this text based adventure SO real you'll think you're actually removing facial hair from your so called face!"
You're Gregg Haliburton: deputy manager of the sales department of Tasbion LTD, and you've had a long weekend of sunning your chin hairs, chugging mushroom wine and sucking peas through a straw. But now its monday morning; 8:05 am...
You have an hour to pink your jowels up nice and smooth for the sexy ladies who crouch in your place of work. Even the one in the emergency staircase with the frozen shoes will like you better if your neck mouth isn't so sprouty-black.
Stage One:Why Are You Still Here?
The mirror reflects a siamese doppleganger twin-clone of you as you fondle a lampshade from your youth. The razor is waiting by the soap mottled sink. There is so much coagulated soap on the smooth white ledges and shelves that form the sink that you wonder if the sink itself may be made from soap.
But somewhere, someone -perhaps in another dimension- is making a Sanity Roll adjusting for all character modifiers and you remember that the sink is not actually a plumbed in bar of soap. Maybe it is God throwing the dice, but you just made your first step on this chaotic journey INTO YOUR OWN MIND.
(OOC: before making your first official paradigm shattering move within this un-universe you must first make an inventory of your equipment. You wear beige, light leather armour with an Orc battlehelm , you carry a diamond encrusted Elvin crossbow and can whisper fire into being twice a day. No gold yet. Heck, you ain't even soaped up yet!)